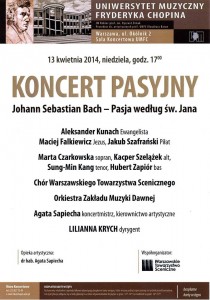 And already on Sunday, April 13 at 17, we will perform the first Passion Concert at the Fryderyk Chopin University of Music in Warsaw. We cordially invite you!
In this performance of the "Passion according to St. Jana" J.S. Bach's solo parts will be sung by: Aleksander Kunach – Evangelist, Maciej Falkiewicz – Jesus, Jakub Szafrański – Piłat and students of the Vocal and Acting Faculty of the UMFC: Marta Czarkowska – soprano, Kacper Szelążek – alto, Sung-Min Kang – tenor and Hubert Zapiór – bass.
They will be accompanied by the Choir of the Warsaw Stage Society, in which solo parts will be performed by: Anastazja Golachowska and Paweł Kowalewski, and the Orchestra of the Department of Early Music under the artistic direction of Dr. hab. Agata Sapiechy. The whole will be conducted by Lilianna Krych.
The honorary patronage over the event was taken by HE Cardinal Kazimierz Nycz – Metropolitan of Warsaw, while the media patronage is held by Radio Warsaw.
Admission upon presentation of a free entry card. We cordially invite you to the Fryderyk Chopin Concert Hall.