In 2022, on the initiative of Lilianna Krych, a new vocal ensemble was created under the auspices of the Warsaw Stage Society.
The direct impulse for its establishment was the initiative of curator Michał Mendyk to organize the first performance in Poland of David Lang's Pulitzer Prize-winning piece the little match girl passion (2007). It was in order to perform this technically and expressive piece that conductor Lilianna Krych gathered young, professional Warsaw singers. The name of the ensemble refers to the first piece being prepared, as well as to the combination – "match" – of that perfect fusion of voices and the intersection of thoughts, which is needed in the performance of chamber and ensemble music.
The first concert – actually 2 evenings during the 65. International Festival of Contemporary Music "Warsaw Autumn" – turned out to be a success, described m.in by Michał Tomczak and Urszula Świątek in the music magazine "Glissando":
The concert at the Warsaw Commune with music by Cornelius Cardew and David Lang provided one of my favorite experiences of the festival, and it was provided by match Match Ensemble, Radical Polish Arkestra and Teatr Bezdomnych.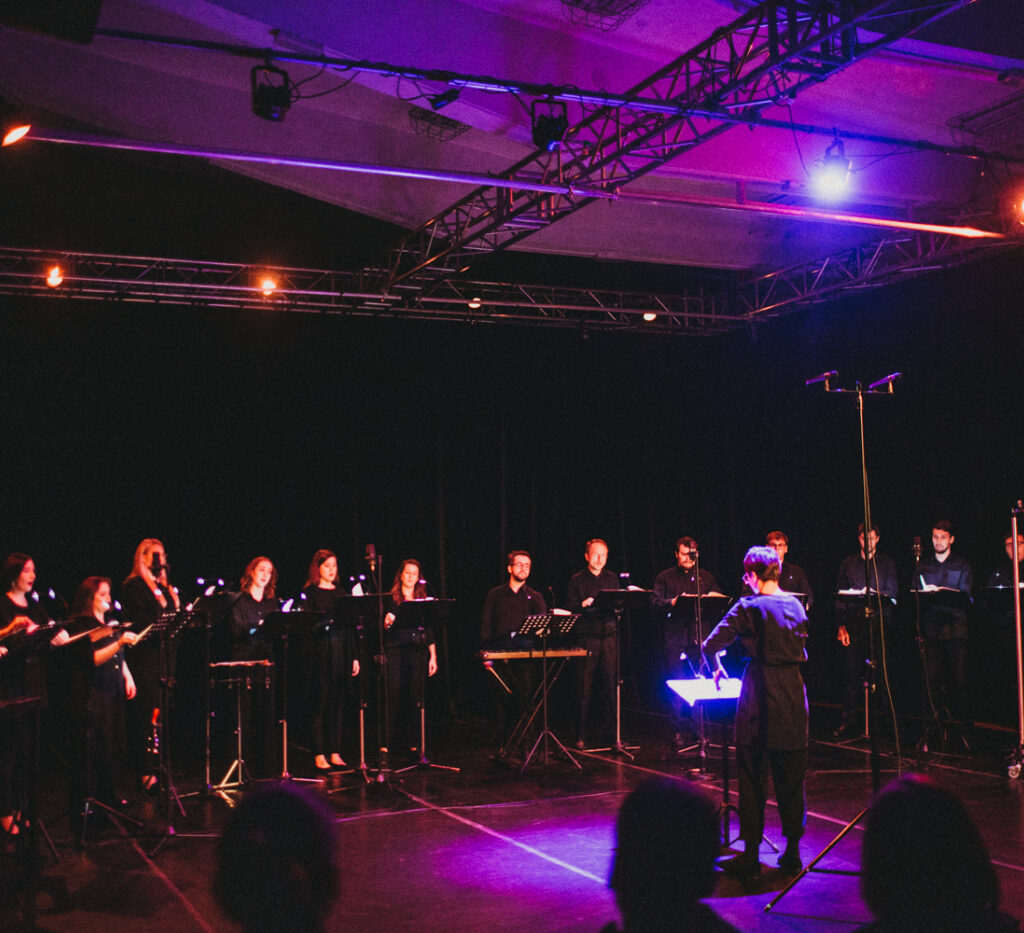 We invite you to read the whole article:
The team consists of:
Sopranos:
Łucja Szablewska-Borzykowska
Aleksandra Drogosz-Szymańska
Maria Złotek
Constance Of Molewska
Altos:
Ewa Kijewska
Marta Schnura
Malgorzata Bartkowska
Marzena Lewandowska
Tenors:
Alexander Sloyevsky
Pawel Kowalewski
Marcin Kucinski
Jacob Prasal
Bass:
Jakub Szafranski
Bartosz Lisik
Michal Kijewski
Michal Malec
During the festival concert Match Match Ensemble performed with an excellent drummer-improviser Hubert Zemler, Teatr Bezdomnych and Radical Polish Arkestra. Together they performed 2 pieces by Cornelius Cardew: Paragraph 2 and Paragraph 7 from "The Great Learning".
Match Match Ensemble will be an ensemble specialising in the music of the twentieth and twenty-first centuries, but it will also reach for Baroque music. Elaborate polyphony, minimalism, harmonic, formal and structural experiments are fields of exploration and search for the best combinations.
See you on the music paths !!!