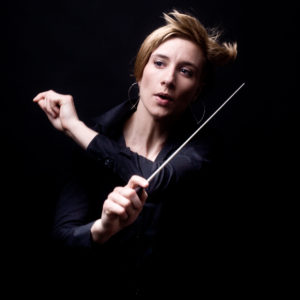 Lilianna Krych
Born in 1986 in Warsaw, conductor, she mainly deals with opera, contemporary and early music. In 2016, she made her debut at the "Warsaw Autumn" Festival, conducting the first stage performance of Salvatore Sciarrino's opera "Luci mie traditrici" in Poland. The performance was shown during the New Opera Days Ostrava 2018. She cooperates with ensembles specializing in the performance of new music, such as Spółdzielnia Muzyczna Contemporary Ensemble and Hashtag Ensemble, of which she has been a permanent member since 2017. Together with hashtag Ensemble, she performed works in the finals of composition competitions (National Competition im. T. Baird 2017, XV International Competition T. Serockiego 2017) and during festivals (NeoArte Synthesizer of Art 2020, Tallinn AFEKT Festival 2018, POLIN Music Festival 2018, Warsaw Music Meetings 2018, Sacrum Profanum 2018, Warsaw Autumn 2018, Portraits of Composers 2017, 2019).

He cooperates with composers in performances and premieres of their works (Rafał Ryterski, Wojciech Błażejczyk, Piotr Tabakiernik, Adam Porębski, Karol Nepelski, Agnieszka Stulgińska and others). He deals with the preparation of music in theatrical performances, in which contemporary music plays an important role, m.in. "Runners" with music by Nikolet Burzyńska (Przegląd Piosenki Aktorskiej, Wrocław 2014), "Trojanki" based on Euripides directed by " Szuleth. Kamila Michalak with music by Marta Śniady (Teatr Polish in Poznań, premiere March 2016). In 2018, she cooperated with the Song of the Goat Theatre from Wrocław, taking part in performances such as "Return to the Voice" or "Hamlet" directed by Grzegorz Bral m.in during Warsaw Theatre Meetings, the International Theatre Festival in Sibiu and performances in Shanghai, China.

In the 2016-2017 season, she was the head of the Vocal Ensemble of the Warsaw Chamber Opera, currently she plays such a role in the Polish Royal Opera. In the years 2013-2018 she cooperated with the Teatr Wielki – Polish National Opera as a conductor-assistant m.in. Gabriela Chmura, Stefan Soltesz, Judith Yan, Carlo Montanaro, Łukasz Borowicz, Marcin Nałęcz-Niesiołowski, Andriey Yurkevich for performances such as "Traviata" by G. Verdi (dir. Mariusz Treliński), "Moby Dick" E. Knapika (dir. Barbara Wysocka), "Tristan and Isolde" R. Wagner (dir. Mariusz Treliński), "Straszny Dwór" S. Moniuszki (dir. Mikołaj Grabowski), "The Dutchman Wanderer" R. Wagner (dir. Mariusz Treliński), ballet "The Taming of the Shrew" (chor. John Cranco), ballet "Romeo and Juliet" (chor. Krzysztof Pastor) et al. She was a co-creator of the independent staging of the opera "Rape of Lucrezia" by B. Britten (2013, Stara Drukarnia PAP in Warsaw, Festiwal Miklosci SZEM 2014, Hungary). She conducted operas, m.in: "Orlando Paladino" by Joseph Haydn (cooperation between the Academy of Fine Arts, UMFC and AT in Warsaw, directed by Waldemar Raźniak, 2014); "Don Giovanni" by W.A. Mozart (WOK Youth Stage, 2014).

In the years 2009-2019, artistically and conducting, she commanded the Choir of the Warsaw Stage Society, with which she carries out national and international projects, workshops, concerts and recordings. These were m.in.: Cornelius Cardew Treatise (Warsaw Autumn 2016), Passion according to St. Matthew J. S. Bacha, Poland 2010/Netherlands 2011 with the participation of the C.O.V. choir. Haarlem, Passion according to St. Jana 2012, Passion according to St. Jana 2014 et al. In the years 2010-2014 she led the Clil choir – the only amateur Jewish choir in Poland, performing music in Yiddish, Hebrew, Ladino and Polish. In 2011, with this band, she recorded the album "Shabbat Songs". She graduated from symphonic and opera conducting at the Fryderyk Chopin University of Music in Warsaw in the class of prof. Marek Pijarowski (2011). In 2009, at the same University, she defended her master's thesis in music theory. She also perfected her conducting skills with maestro Collin Metters, Jonatthan Brett, Jerzy Salwarowski and Carlo Montanaro during master classes.
She has collaborated with the Polish Radio Orchestra, the Lower Silesian Philharmonic, the Świętokrzyska Philharmonic, the Zielona Góra Philharmonic Cappella Regia Polona, the Sinfonietta of the Polish Royal Opera.
www.liliannakrych.pl