Already on December 15, on Sunday, at 19 we invite you to the second of the series of Advent concerts – in the church of St. Mark the Evangelist at ul. Zamiejskiego 6. Admission!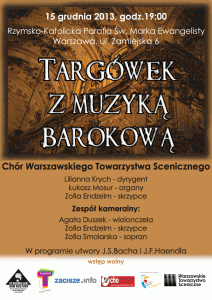 We would like to remind you that this year, during the Christmas season, we make fragments of J.S.'s Advent cantatas. Bach. On the organ we are accompanied by Łukasz Mosur. In addition, during the concert you will be able to hear a chamber trio, consisting of Zofia Smolarska – soprano, Zofia Endzelm – violin and Agata Duszek – cello, which will perform two arias by Georg Friedrich Handel, and virtuoso Chaconne in D minor for solo violin performed by Zofia Endzelm.
The project is co-financed by the Targówek District Office m.st. Warsaw. We cordially invite you!