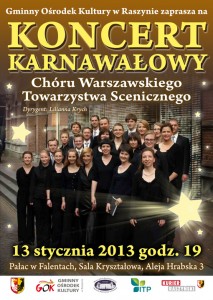 This Sunday, January 13 at 19, we warmly invite you to the New Year's concert in Falenty. This time, performed by our choir under the baton of Lilianna Krych, you will be able to hear carols and pastorals from different parts of the world.
Known to us by heart and completely new to the ear, in traditional and contemporary arrangements, Spanish, Hungarian, English and of course Polish – such carols will sound in the Crystal Hall of the Palace in Falenty at 3 Hrabska Avenue, where we were invited by the Municipal Cultural Center in Raszyn. And despite the truly winter weather, we are sure that the atmosphere of this meeting will be extremely warm, as befits a New Year's caroling.
And a few days later, on January 16 at 16, we will sing for small and slightly larger patients of the Children's Hospital at ul. Działdowska 1 in Warsaw. See you!