The first opera based on Goethe's Faust was not written by any of the world-famous composers. It was created Polish aristocrat Antoni Henryk Radziwiłł just after the creation of the work of the German poet. We invite you to an open-air opera performance on September 15 at 20.00 in a beautiful palace in Nieborów – the seat of the Radziwiłł family. Admission!
Two volumes of Prince Radziwiłł's work were published in Berlin in 1835 and had as many as 589 pages. It took the aristocrat over twenty years to compose the piece. He began after the publication of Goethe's Faust and ended three years before his death. Visiting the poet in Weimar, the prince presented him with fragments of the score. Goethe expressed his admiration for the music and even introduced some changes to the text of the drama under its influence. In a letter from 1829, Fryderyk Chopin also did not spare the prince praise: 'I found many things so well thought out, even brilliant, that I could never have expected from the governor'.
The opera was performed entirely in Berlin only in 1835, three years after the poet's death and two years after the composer's death. Then it was performed many times in various cities of Europe. In Poland, Radziwiłł's work in its entirety was heard only after World War II.
On September 15, we will have the pleasure to take part in a unique outdoor performance of "Faust" by Michał Henryk Radziwiłł in the Courtyard of the Radziwiłł Palace in Nieborów. We cordially invite you!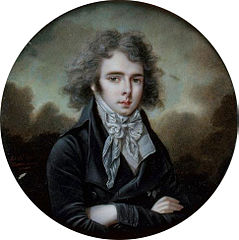 Directed by – Jitka Stokalska
Music direction – Marta Kluczyńska
Assistant Director – Bożena Bujnicka
Multimedia – Piotr Majewski
Set design and costumes – Katarzyna Bublewicz
Choir preparation – Lilianna Krych
Preparation of soloists – prof. Dorota Radomska
Pianist – Joanna Kacperek
Project coordinators – Marta Straszyńska, Monika Antczak, Beata Stępień
Actors:
Faust – Bogdan Ferenc,
Mephistopheles – Bartosz Martyna
Soloists:
Faust – Jacek Szponarski
Gretchen – Agnieszka Grala
Mephistopheles – Antoni Olszewski
Martha – Magdalena Pluta
Bauer, Frosch – Rafał Żurek
Brander, Geist – Karol Skwara
Siebel – Jan Piasecki
Altmayer – Bartosz Szwaciński
Orchestra and Choir "La Scoperta"
Organizers: Museum in Nieborów and Arcadia, Three Trumpets Foundation, Association of Polish Artists musicians