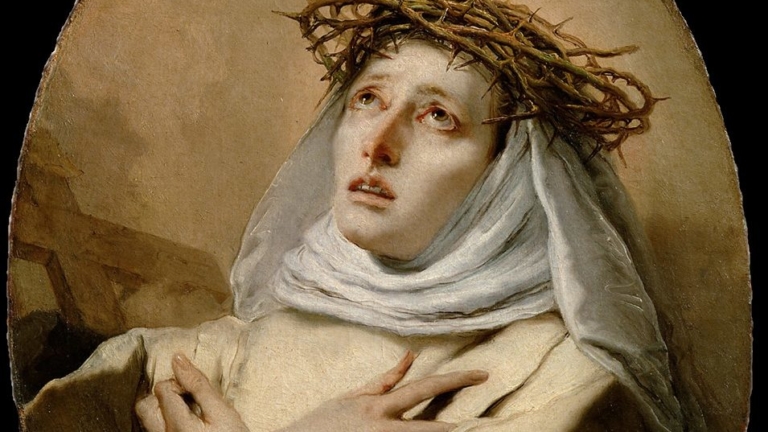 On March 8, 2022, during the New Epiphanies Festival, the premiere of Katarzyna Szwed's musical and verbal work will take place in the building of the Laboratory of the Ujazdowski Castle Centre for Contemporary Art. The work is based on the story of the life of St. John. Catherine of Siena and consists of seven vocal parts and an instrumental part. The premiere concert will be performed by an international group of musicians-actors led by Julianna Bloodgood. The producer of the event is the Warsaw Stage Society.
Katarzyna Szwed's work is an attempt to reach the essence of the mystical experience of St. Catherine by conveying the deepest possible emotional and spiritual layers of the text. On stage, the artists try to convey the extreme, ecstatic and inevitably self-annihilating character of the main character's mysticism. On the musical basis, this will manifest itself in a combination of radically expressive means with sublime and saturated with silence. Being aware of the historical context of the story being told, the composer refers to the Italian polyphony of the fourteenth century. It reaches back to the sources of both religious and folk music of that time. The work uses instruments from the era, including those that are a symbol of St. Catherine, which traditionally accompany her on portraits – bells and tambourines.
Concert "Little Thunder. Saint Catherine of Siena" is the result of field research in Italy, aimed at reaching authentic sources of knowledge about the context of The life of Saint Catherine. The authors managed to reach not only many organizations associated with the figure of St. Catherine and the impressive library collections of the Academia Chigiana in Siena, covering many source musical materials from the fourteenth century, but also literature on the musical life of Siena at that time.
The theatrical elements of the work refer to the tradition of the poor theatre of Jerzy Grotowski, from which the main soloists and originators of the project originate. With the help of economical but expressive means, the artists will try to evoke a state of total catharsis in the audience.
Most of the performers performed many times in Poland and formed part of the ensemble of the Song of the Goat Theatre in Wrocław. Most of them can be described as propagators and continuators of the tradition of poor theatre by Jerzy Grotowski.
CREATORS AND PERFORMERS

Composer:
Katarzyna Szwed
Authors of the text:
Julianna Bloodgood
Danielle Blackbird

Music Director:
Lilianna Krych

Artist:
Julianna Bloodgood
Olga Kunicka
Rhianna Compton
Paulina Krupa
Nene Barini
Sarai O'gara
Ditte Berkley
Rafal Habel
Project coordinator:
Radoslaw Wojcik

Production:
Warsaw Stage Society

The song "Little Thunder. Saint Catherine of Siena" was co-financed by the Ministry of Culture and National Heritage from the Culture Promotion Fund as part of the "Compositional Commissions" program implemented by the National Institute of Music and Dance.
Partners