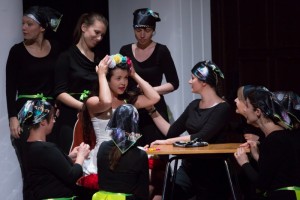 This Friday, October 24, we invite you to the Warsaw Chamber Opera for the opera "Don Giovanni" W.A. Mozart with the participation of the WTS Choir. The performance will be conducted by Lilianna Krych.
It will be another, after Euripides' "Bacchantes", staging of the WOK Young Stage, in which the Warsaw Stage Society participates, and at the same time a revival of the opera after its staging during the Mozart Festival in July. Let us remind you that this is a performance of the Fryderyk Chopin University of Music in Warsaw with the participation of young, promising adepts of vocal art.
We cordially invite you!
Directed by: Ryszard Cieśla
Music direction: Lilianna Krych
Set Designer: Karolina Fandrejewska
Lighting design: Paulina Góral
Vocal supervision: Ryszard Karczykowski
Choreography and stage movement: Aleksandra Dziurosz
Artist:
Don Giovanni: Hubert Zapiór
Leporello: Dominik Opaliński
Masetto: Jasin Rammal
Don Ottavio: Emil Ławecki
Anna Donna: Caroline Ciwis
Donna Elvira: Bożena Bujnicka
Zerlina: Anna Szostek
Commander: Paweł Czekaa
Choir of the Warsaw Stage Society
Sinfonietta of the Warsaw Chamber Opera