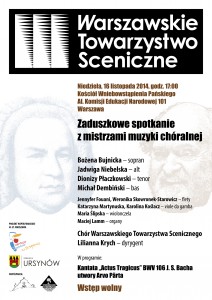 We cordially invite you to the concert entitled: "All Souls' Day meeting with the masters of choral music", which will take place on November 16 at 17 in the Parish of the Ascension of the Lord at Al. KEN 101 in Ursynów. The event is co-financed by the Ursynów District Office m.st. Warsaw.
The concert program will include baroque and contemporary music. Soloists (graduates and students of the Fryderyk Chopin University of Music) and the Choir of the Warsaw Stage Society with the accompaniment of an instrumental ensemble and organ under the baton of Lilianna Krych will perform the Cantata Actus Tragicus BWV 106 by Johann Sebastian Bach and works by Arvo Pärt: The Beatitudes and Da Pacem.
The selection of works – Bach's mystical, mournful cantata and Pärt's reflective choral works – aims to show parallels between the work of two composers of distant epochs. The works of both masters are precise and ascetic, and at the same time give the impression of unlimited space.
Artist:
Bożena Bujnicka – soprano
Jadwiga Niebelska – alto
Dionizy Płaczkowski – tenor
Michał Dembiński – bass
Jennyfer Fouani, Weronika Skowronek-Starowicz – flutes
Katarzyna Martynuska, Karolina Koślacz – viole da gamba
Maria Ślipska – cello
Maciej Lamm – organ
Choir of the Warsaw Stage Society
Lilianna Krych – conductor
Welcome! Admission.