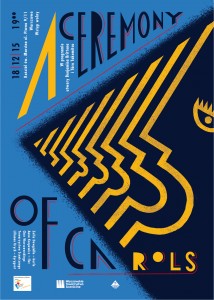 We invite you to the Christmas concert, which we will perform on Friday, December 18, at 19.00, in the church of St. Marcina at ul. Piwna 9/11 in Warsaw's Old Town.
The program includes: "A Ceremony of Carols" for choir and harp by Benjamin Britten and "Toward the Sea III" by Tōru Takemitsu. Our special guest will be a harp-flute duo Fl-Ar.Art: Zofia Dowgiałło and Anna Karpowicz.
"A Ceremony of Carols" by the twentieth-century English composer Benjamin Britten is an 11-part cycle, using elements of Gregorian chant and medieval and sixteenth-century poetry. It is an extremely popular piece, performed during the holiday season in churches and concert halls around the world. As a counterpoint to such a well-known repertoire, we propose "Toward the Sea III" by the Japanese composer Tōru Takemitsu for harp and flute – a work rarely performed in Poland and practically unknown in Poland. An interesting fact may be that it was written at the request of Greenpeace on the occasion of the campaign to save whales.
The concert is financed by the Śródmieście District m.st. Warsaw. Admission. Welcome!