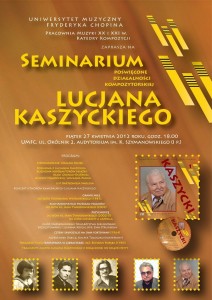 We cordially invite you to a concert dedicated to the work of Lucjan Kaszycki, which will take place this Friday, April 27 this year, at 18.00 at UMFC (auditorium K. Szymanowski). It will also be an opportunity to talk to the composer himself and the authors of his biography.
During the concert, the Choir of the Warsaw Stage Society, under the baton of its founder Ewa Strusińska, will perform works by Lucjan Kaszycki: "Playing nice" to words by Stanisław Wyspiański, "Kochanowski translation of psalms" and "I come" to the words of Fr. Jan Twardowski.
In the further part of the meeting you will be able to hear "Four exhibitions for two pianos" performed by Aleksander Dębicz and Kacper Tołoczka and watch a fragment of the film "Catastrophe in Gibraltar" (dir. Bohdan Poręba), to which the music was written, of course, by Lucjan Kaszycki. We cordially invite you!